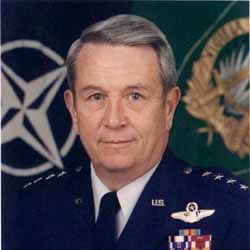 In August of 1993, General J.B. Davis concluded a thirty-five year career with the United States Air Force as a commander fighter pilot, commander and strategic planner and programmer. He has served as a commander of a combat fighter wing, of the Air Force's Military Personnel Center. Pacific Air Forces, and United States Forces Japan. On the staff side, he served as the Director and Programmer of the US Air Force's personnel and training, Deputy Chief of Staff for Operations and Intelligence Pacific Air Forces, and served his last two years on active duty as the Chief of Staff, Supreme Headquarters Allied Powers Europe (NATO).
During his military career he has extensive experience in operations, intelligence, human resource management, and political/military and international affairs. He has commanded a nuclear capable organization of about six thousand personnel and several sizes in between.
In the 1990s, he was deeply involved in the successful multimillion dollar negotiations for support of US forces in Japan and the Japanese financial support of US forces in Desert Storm. In NATO, he was the Chief Negotiator with the North Atlantic Council and the United Nations for NATO's participation in the Yugoslavia conflict.
After retirement from the military, General Davis has remained involved in his area of expertise, lecturing and speaking on international and aviation affairs. In February 1995,
General Davis was nominated to President Clinton by Speaker of the House of Representatives and confirmed by the Senate to sit on the Presidential Base Closure and Realignment Commission that reviewed the Secretary of Defense's closure list for 1995. In July of 1995 the commission sent recommendations to the President which were accepted and became law. He continues to advise communities and states on base closure matters. Additionally General Davis served on the Congressional Commission on Servicemember's and Veteran's Transition Assistance (The Dole Commission). In 2001, General Davis was selected, by the Secretary of Defense, to review the V-22 Osprey Tiltrotor program. He is currently the president of a Japanese corporation and is the CEO to the American subsidiary. He served as the "Safety Czar" for ValuJet Airlines and continues to assist commercial airlines in strategic planning.
General Davis has lived overseas for more than ten years, almost evenly split between the Pacific and Europe. Because of his official duties, he has traveled extensively to all the ASEAN and NATO countries and many of the Central and Eastern European countries to include Hungary, Bulgaria and Albania, meeting with Ministers of States and Defense, Prime Ministers and Presidents.
General Davis has a BS degree in Engineering from the U.S. Naval Academy, a Masters degree in Public Administration from Auburn University at Montgomery, has attended multiple professional schools, is a military adviser to the Jewish Institute of National Security Affairs and is a National Defense University Capstone Senior Fellow.