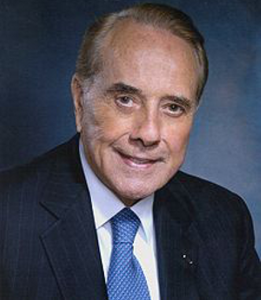 GratitudeAmerica's Honorary Chairman since December 2011 and a World War II veteran, Bob Dole has received national acclaim for his leadership on behalf of the disadvantaged and disabled. He is a revered spokesman on issues involving veterans, hunger and nutrition, agriculture and men' health. He is respected on both sides of the aisle for his views on bipartisanship, deficit reduction, economic growth and health care and for his mastery of foreign affairs.
A renowned statesman who spent more than 35 years in Congress, Dole was first elected to Congress from his home state of Kansas in 1960 and to the U.S. Senate in 1968. He gained national prominence as chairman of the Republican National Committee from 1971 to 1972. In 1976, President Gerald Ford tapped him to be his vice presidential running mate. He served as chairman of the Senate Finance Committee from 1981-1985. Elected senate majority leader in 1984.
Recognitions and honors:
Recipient of the Presidential Citizens Medal, the nation's second highest civilian award; Distinguished Service Award from the United States Association of Former Members of Congress; American Legion's prestigious Distinguished Service Medal; Horatio Alger Award from The Horatio Alger Association of Distinguished Americans; U.S. Defense Department's Distinguished Public Service Award; and the National Collegiate Athletic Association's Teddy Roosevelt Award. Senator Dole is the co-recipient, along with his former Senate colleague George McGovern, of the 2008 World Food Prize, recognizing individuals who have advanced human development through increased quality, quantity and availability of food.
Selected in 2007 by President Bush to co-chair the President's Commission on Care for America's Returning Wounded Warriors, which closely examined the comprehensive system of medical care received by U.S. soldiers returning from Iraq and Afghanistan.
In 2004, received the Golden Medal of Freedom from the president of Kosova for his support of the protection, freedom, independence and democracy of Kosova.
In 1997, received the Presidential Medal of Freedom, the nation's highest civilian honor, which is awarded by the president to persons deemed to have made especially meritorious contributions to the security or national interest of the United States, to world peace, or to cultural or other significant public or private endeavors.
Chairman of the International Commission on Missing Persons in former Yugoslavia, 1997-2001.
National Chairman of the World War II Memorial Campaign, 1997-2004.
Served as president of the Federal City Council in Washington, D.C.; honorary co-chair of the President's Council on Service and Civic Participation, part of the U.S.A. Freedom Corps; and chairman of the Board of The Dole Foundation, which he established in 1983 to advance educational and workforce opportunities for the disabled. The Robert Dole Scholarship Fund for Disabled Students was established in his honor at the United Negro College Fund.
Served on active duty in the Armys 10th Mountain Division in World War II, during which he was gravely wounded and received for heroic achievement two Purple Hearts and a Bronze Star with Oak Leaf Cluster.